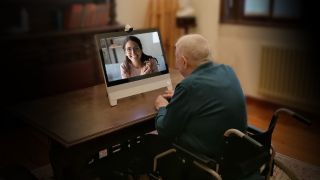 Give their emotions a voice, together!
This is our 2021 resolution!
SUPPORT ECCOMI!
Join us and the many colleagues who have already donated their contribution to support the "EccoMi!" Project, to guarantee all guests of nursing homes  the opportunity to stay in touch with their loved ones, thanks to an innovative and easy to use telepresence system. For every euro donated, the Amplifon Foundation will double its value.

Yesterday
Since November 2020, thanks to the innovative technology made available by Cisco, we were able to donate 10 machines to 10 retirement and nursing homes, allowing 2,100 guests to stay in touch with their loved ones, positively affecting their psychological and emotional sphere.
Today
To continue making a difference, today we  need your support.
Thanks to you, we will be able to bring 5 more innovative Cisco tele-conference devices to 5 facilities in Lombardia, Calabria, Piemonte and Campania.
Tomorrow
The idea behind"EccoMi!" came during these times of pandemics but  it looks to the future by creating new ways of staying in touch between nursing homes and the community. This is why we want to bring "technology with a heart" to as many facilities as possible, with large screens and powerful connections, to bridge the gap between elderly guests and their loved ones.
AMPLIFON FOUNDATION DOUBLES YOUR DONATION
Together we will make thousands of people feel less alone by shortening the distance with their loved ones. Together we will achieve the goal and significantly improve their quality of life, especially in such difficult times.
Thanks to the initiative and generosity of Cisco, Durante and the Amplifon Foundation, the meetings, although still at a distance, can take place on large, clear screens and with enhanced audio. It will be almost like seeing and talking face to face.

GIUSEPPE SALA, MAYOR OF MILAN
EccoMi! it is an example of how to connect resources and skills in such an effective way to create a positive impact.
AGOSTINO SANTONI, CISCO ITALY CEO
The telepresence system will allow hundreds of seniors and their family or friends to feel a little closer even now when they are forced to stay away.
LUCA DEGANI, PRESIDENT OF UNEBA LOMBARDIA