LET'S DREAM!
Let's dream! It's always time to dream!" is an initiative by Amplifon Foundation in collaboration with the people of the Amplifon Group that aims at realizing the dreams of elderly residents
A ROCKSTAR FOR PINDARO NURSING HOME IN MILAN
In September 2022, the Italian singer Bobby Solo performed in front of an audience of nearly 100 senior citizens, with a dinner served by the Amplifon volunteers who took part in the event.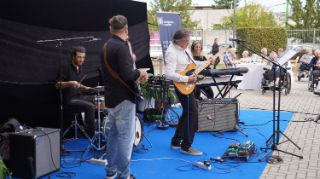 A SPECIAL DAY IN A SPECIAL PLACE
In October, together with Amplifon Volunteers, we took Mrs. Angela, 94 years old and a resident of La Provvidenza facility in Busto Arsizio, to see her favorite place again: the Bay of Silence in Sestri Levante.

A ONCE-IN-A-LIFETIME LUNCH WITH A UNIQUE CHEF
Finally, in February 2022 we went to Dongo for a special lunch cooked by Chef Roberto Valbuzzi, star of some TV programs.